How to Rescue Wet iPhone 5
When your beloved iPhone 5 suffer from water damage, what can you do? Water damaged iPhones are not covered by Apple's warranty. If you take the waterlogged phone to repair shop, I am afraid you will be in charge of much money. Apple iPhone 5 water damage can be classified to three circumstances. The first one is slight water damaged – carelessly split water to cellphone body. The second is moderate water damage, such as dropping your phone to basin but take it out in time. The last one is severe soaked. Some may vividly remember the moment when he dropped his handset to toilet or washing machine and totally fail to rescue it.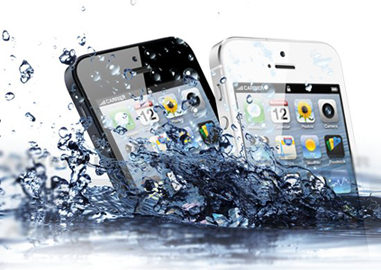 It is possible to revive iPhone 5 if you take the effective actions right away. Therefore, acquiring basic knowledge of judging and rescuing water damaged iPhone 5 is helpful. There are several ways how to rescue your wet iPhone 5.
• Power Off iPhone 5
Now, the most important thing you need to do is powering off the phone. Remember, don't turn on the phone, otherwise the phone will be broken by short-circuit. When it happens to a white screen and fails to turn off the iPhone 5, and then press both power button and home button until the system shut down.
• Check Water Damage Sensor on iPhone 5
If iPhone 5 is damaged by water or a liquid containing water, the Liquid Contact Indicators (LCls) located at SIM card Connector will be activated by turning red. For other wet iPhones, you can check the dock connector/charging port, headset jack, or speaker mesh etc.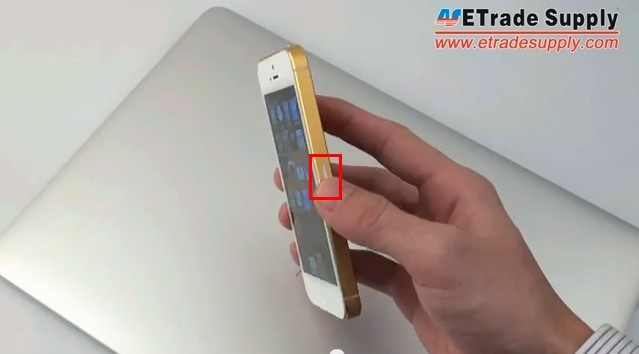 Lift the iPhone 5 SIM Card Tray,then you will see the activated red Liquid Contact Indicator. (Original color is white or silver)

• Use Silica Gel or Rice
Another effective way is putting the handset in a sealed bag of Silica Gel or dry rice for 48 hours. Remove SIM Card then put the phone in a hermetic bag of Silica Gel or rice, seal the bag and avoid any moisture or air. Let the phone stay in the bag for 48 hours or longer. Be patient during this period. At last, full charge iPhone 5 and turn it on to test if it functions well.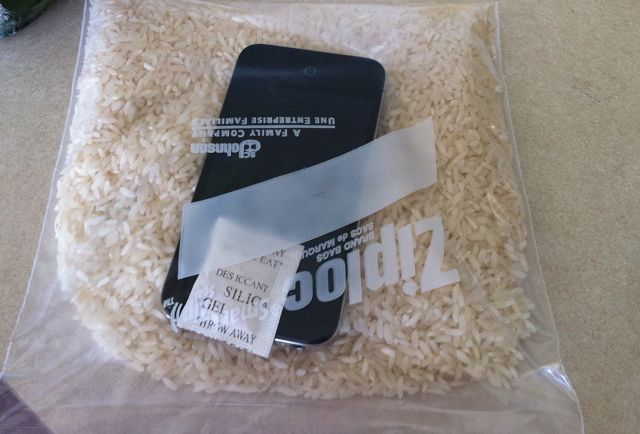 • Disassemble iPhone 5
If cellphones unfortunately encounter damage by soup, coffee, or beverage, it is a tough thing – disassemble iPhone to clear inside parts in the reason that these stuffs are with acidity or corrosive property which will corrode the inner components of mobile phone. If above-mentioned approaches are ineffective, you have no choice but disassemble iPhone 5.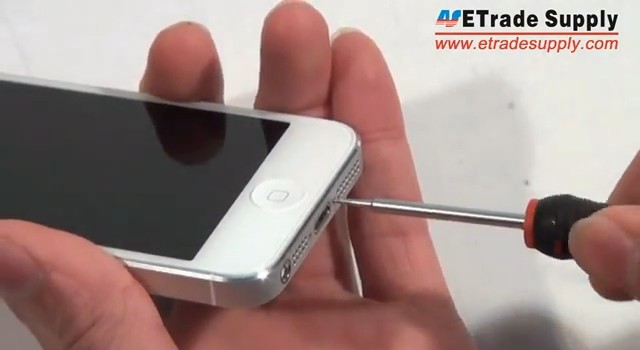 • Dry iPhone 5 Components
If iPhone 5 is subjected to corrosive liquid containing water, such as soup or coffee, the contaminated parts can be washed off by banana oil. Alcohol is prohibited, for alcohol would make iPhone 5's rubber components swelling.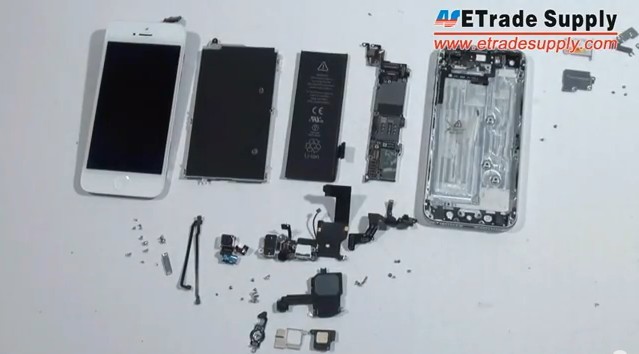 The iPhone 5 taken apart accessories should be surrounded in a warm air environment. A hairdryer can be used to draw these components moisture with cool air, rather than hot air. Remember, all units should stay away from heat sources or hot air; otherwise some rubber accessories will be destroyed by heat.
Highly recommend professional knowledge in tear downing iPhone 5. If not, you can follow iPhone 5 Disassembly Tutorial Video to do the job.
Hope these solutions can solve wet iPhone 5 problem and rescue your beloved iPhone 5.
Author: Yuki